---
495 Burlington Rd, Roxboro, North Carolina 27575
---
Vision:
Embracing Diversity, Accepting Others and Loving All !
Mission:
Embrace Christian Center exists to honor God through worship, win the lost through love, build meaningful relationships, make disciples, embrace our community by providing spiritual, educational and financial resources.
At Embrace Christian Center, it is our desire to minister a message of hope and enrich the lives of others through the saving knowledge of Jesus Christ. This is done in a practical manner of developing meaningful relationships and establishing a true sense of family not just church attendance. If you are ever in the Roxboro, North Carolina or surrounding areas, we would like to personally invite you and your family to join us.
Pastor & First Lady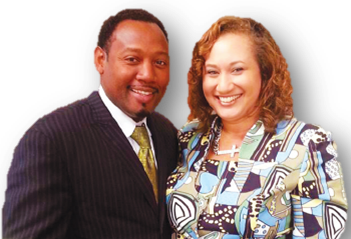 He served in the United States Army for 6 years. Pastor Drumwright attended North Carolina Agriculture & Technical State University in Greensboro, NC where he majored in business administration. He received a degree in Human Resource Management and Development and also a Master's in Counseling. Pastor Drumwright will be pursuing a doctoral degree in Biblical studies in 2017.
In 1990, he joined Evangel Fellowship Church, Greensboro, North Carolina, where he served faithfully for over 2 decades under his late spiritual father and leader - the late Bishop Otis Lockett, Sr. As a result of his servantís heart, he functioned in several capacities in the local church.
Before his departure to glory, Bishop Otis Lockett, Sr. blessed Pastor Drumwright to pursue the call of God on his life. After much prayer, he answered the call and started Embrace Christian Center in September 2013. His greatest desire is to see the miracles of the Bible manifested in this day and lives transformed by the Word of God and the Power of the Holy Spirit.
Pastor Drumwright and his wife, Regina, reside in Greensboro, North Carolina. They have four beautiful children Kendra, Brelin, Majesty and Victory.
Services
Sunday At 10:00 am
Contact Us
Mailing Address: P.O. Box 2541 Greensboro NC 27402
Email: embracechristiancenter@yahoo.com